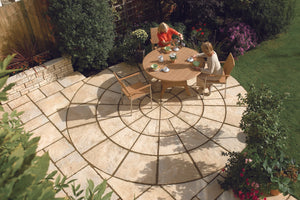 Circles and Inlays
Stone Ridge Pavers
Environmental Pavers
Piers • Caps • Coping • Steps
Nicolock Paver Stones, Retaining Walls, and Outdoor Living Authorized Dealer
Outdoor Living, Pavers, Patio, Hardscaping
With warmer weather beckoning us outside, Peach Country Tractor is proud to offer wow-worthy ideas and the best products for paver patios, garden and retaining walls, pool decks, outdoor kitchens, walkways, fire pits, and more from Nicolock, the nation's top-quality manufacturer of outdoor surfaces. With a variety of colors and dimensions, their pavers and wall blocks are durable and stylish, adding value and beauty to your outdoor spaces. The quality, strength and beauty of these stone pavers and wall blocks, manufactured with Nicolock's patented Paver-Shield technology, is unsurpassed.
Peach Country Tractor is an authorized dealer for Nicolock, serving communities throughout southern New Jersey, southeastern Pennsylvania, and northern Delaware. Check out the Nicolock images and information on this page for inspiration and ideas to enhance your outdoor living space. The options are endless whether you are a DIY homeowner, a landscaper, or a contractor. Peach Country Tractor offers personalized, expert service and delivery to your residential or commercial site. We also offer instructions, tips, and experienced project pros for advice or to complete an entire design. Fill out the form below and let us help you get started.
Pavers and wall blocks are made from a combination of natural materials like limestone, sand, gravel, clay, and water, with added color and strengtheners. The mixture is then poured into molds and 'cured'. Nicolock's proprietary manufacturing process ensures these pavers and wall blocks maintain their durability, beauty, and weather resistance. The color remains uniform throughout the stone, so even after years of use, it is still vivid and vibrant. Different manufacturing processes go into different types of Nicolock products. For example, some pavers allow for water to seep through back into the ground, thus avoiding runoff onto property, streams, and sewers. Wall blocks have the strength and durability to contain soil, roots, and plants without disintegrating. Nicolock even manufactures pool deck pavers with anti-slip properties for added safety. Beautiful, weather-resistant, durable, and perfect for the many styles of homes in our expanding service area, Peach Country Tractor can help you design and build the perfect outdoor space. Contact us today here or call us now (856) 226-3834.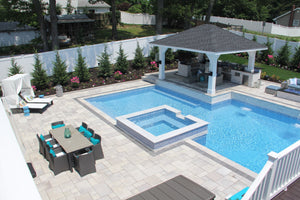 Nicostone Pavers
Pavers are becoming more and more popular because of their durability, ease of installation, variety of colors, and fabulous patterns. Patios, driveways, pool decks, outdoor kitchen spaces and other flat hardscapes are perfect places to use pavers. While a poured concrete slab can be less expensive, pavers are stronger and last longer, with less cracking, buckling, chipping, and surface issues. Peach Country Tractor understands that outdoor spaces reflect your style and use, and offer a wide variety of colors and patterns from Nicolock.  These American-made products are made from natural materials that are recyclable after their long life of safety and beauty in your outdoor space.  
Check out some of the pavers that include different shapes, patterns, colors, and textures – durable and beautiful brick, slab, and cobblestone patterns. Mix and match colors, try circular inlays, consider a classic herringbone design. Nicolock also manufactures Paver-Shield paver stones, a superior, long lasting paver ideal for patios, pool decks, walkways, and even driveways. With proper installation (check out Nicolock's FAQ) these smooth-surface pavers will look like new for many, many years. Peach Country Tractor also offers environmentally friendly, water-permeable pavers from Nicolock that help reduce flooding, pooling and run-off issues for rainwater and snowmelt. Some municipalities have strict regulations for residential and commercial landscaping, and the pros at Peach Country Tractor can help you navigate local codes and regulations and still create beautiful and durable hardscapes. Toscana Pavers are part of Nicolock's popular collection that combines the look of Old Italy (lovely colors, textured edges, slightly dimpled surfaces and a variety of sizes and patterns) with the strength and durability of American manufacturing. The pavers feature a mixture of sizes and shapes to your personal style. Wetherdale, Flagstone and Travertine looks are also available with a variety finishes, colors, sizes, and patterns for the exact look you want.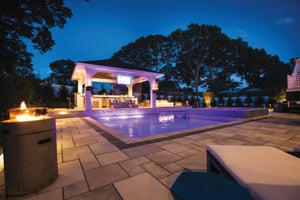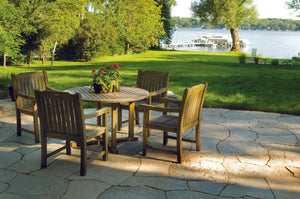 Installing pavers requires planning, preparation, and a base to safely set the stones. Peach Country Tractor recommends highly qualified pros to make sure your hardscape project is completed properly. Contact us today here or call us now (856) 226-3834 to talk about your hardscape project.
Sand and stone base depths are determined by use (driveways and parking pads require a deeper base) and the type of soil. To reduce weeds and bugs, high-tech sand and sealer can be added to the joints between pavers. Special preparation is needed to install pavers over a poured concrete base like an old driveway, patio, or walkway. And pool decks can be designed with safety edging and embedded anchors for covers.  
If you have a project in mind, fill in the form below to talk with one of the Nicolock Paver pros at Peach Country Tractor. 
All Nicolock Pavers with Paver-Shield are backed by Nicolock's transferable life time warranty.

Wall Systems
While houses are built on flattened lots, surrounding yards and outdoor spaces may be full of hills, slopes, valleys, basins, and other topographical features that require leveling to create the perfect outside oasis for you and your family. From retaining walls, planters, and pool decks, to borders, privacy walls and gardens, Peach Country Tractors offers a wide variety of Nicolock materials.  Depending on the type of soil and other characteristics of the grounds, hardscape pros can offer advice on the best material, preparation, and design to suit your needs.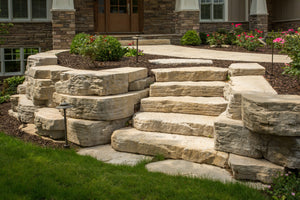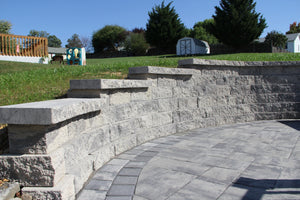 Retaining walls hold soil, trees, flowers, and grass on slopes and borders. These walls used to be made of logs and railroad ties to help prevent erosion and runoff. But rain, temperature variations, and even insects weakened these walls, so landscapers started building walls with stone – stronger but still subject to pressure and cracking. Nicolock's twofold system of segmental stacks and geogrid stabilizers ensure that retaining walls are sturdy, safe, and last a lifetime. Segmental retaining wall systems were designed for walls under three feet high and a moderate slope. Taller retaining walls, steep slopes, or walls subject to heavier traffic loads benefit from the addition of geogrid placed between the layers of blocks to stabilize the landscape and walls. Peach Country Tractor works with designers and pros who know Nicolock products and the best way to use them. 
Nicolock Paving Stones can be used in many ways for decorative and functional outdoor wall systems. Walls can be built into the landscape, added as garden and driveway borders, used as patio sitting areas (and firepits!) and for privacy. These stones can also be added into a slope as steps. Nicolock also creates a variety of piers, coping and caps in many styles and colors to add the finishing touch to your outdoor oasis. 
Peach Country Tractor, a licensed Nicolock dealership, has the materials, experience, professionals, and knowledge to turn your landscape and hardscape dreams into reality.  Fill out the form below and let us answer your questions and get you started toward the perfect residential or commercial outdoor space.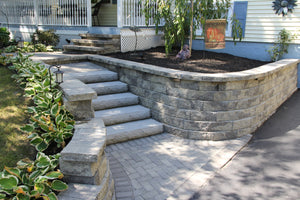 Nicolock—Endless Posibilities
Fire Pits & Fireplaces
GAS | Whether you prefer propane or natural gas, each ignition type includes everything you need to experience season-round enjoyment day or night. Includes the vent kit for all ignition systems and the control panel for MT and TMSI. Choose your coping option for added height and contrasting finish; add the optional grates to complete your outdoor sanctuary.

Outdoor Dining
Outdoor dining makes the ultimate statement in luxury entertainment. Patios and poolscapes really pop with the crowning touch of one of Nicolock's spectacular outdoor dining options. Give yourself the gift of year-round expanded living space and endless memory-making moments.
Nicostone Pavers
Love the look and feel of real stone? Then look no further than Nicostone. Offered in either free-form grand flagstone or an array of rectangular options, the look, durability, and color-blending options of Nicostone pavers make them a wildly-popular choice for poolscapes and other outdoor living projects. But it gets even better. Nicostone pavers come with Cool Touch™ technology that reflects solar heat. Bye-bye burning feet!
Contact us today to get started building your hardscape dreams!
Peach Country Tractor, your local, licensed Nicolock dealer. You can also call us today at (856) 226-3834